T-Rex Continuous Hanger system designed for new gutters'
Your gutters are designed to safely carry rainwater and melted snow from your roof to your downspouts, keeping water away from your home's foundation. Leaking gutters and improper water drainage may lead to a variety of serious issues. Reliabuild has found the solution for gutter protection by installing a Continuous HangerTM. Call it what you want: Continuous Hanger, full-length support, continuous fastener, one- piece, and infinity hanger systems are all synonyms for the latest gutter installation method. Unlike an open system that's vulnerable to debris and the elements, the Continuous HangerTM system covers your eavestrough entirely while letting water flow freely. Call or email us today. One of our qualified contractors will be happy to meet with you.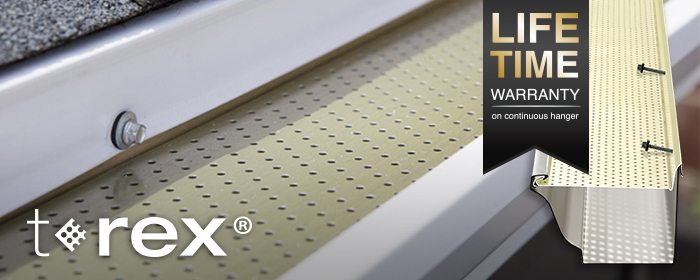 T-Rex® from Alu-Rex is an innovative gutter maintenance system with a Continuous HangerTM designed to keep your gutters straight and clean for years to come. It mounts your rain gutters solidly on your home, making them much sturdier and more long- lasting that those mounted with spikes and hangers spaced at intervals.
o There are no weak points. It can support the weight of snow, ice and ladder.
o It keeps snow out of eavestroughs, eliminating the risk of warping due to freezing and thawing.
o The T-Rex Continuous HangerTM is covered by a lifetime warranty on its sturdiness and a 40-years clog-free warranty.
---
The DoubleProTM Microfiltration Continuous HangerTM: Next-Gen Gutter Guard for Pine Needles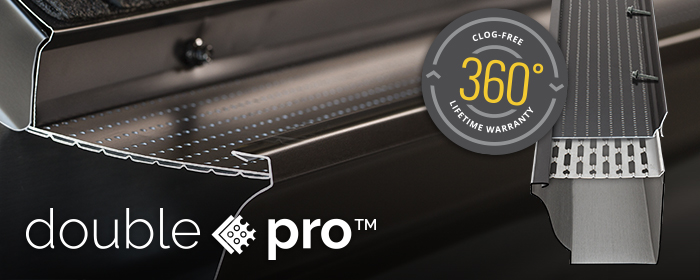 If you are up in your ladder every month during spring, summer and fall cleaning your gutters full of pine needles, this dual-layer gutter protection system may be for you. Take advantage of the most advanced technology on the gutter market with the DoubleProTM. The microfiltration Continuous HangerTM strikes an ideal balance, offering maximum drainage and debris filtration. The DoubleProTM only lets through what should be carried off by the gutter system: fine dust particles, pollen, and (of course) rainwater. As an added bonus, it provides extra support because it runs the entire length of the gutter.
Call or email us today, One of our qualified contractors will be happy to meet with you.
---