Seamless Eavestrough
---
Eavestroughs keep the water flowing away from your house. With the newly designed seamless eaves troughs you will notice better efficiency and a cleaner look.
Contact us to have your eaves troughs installed today!
---
---
Gutter Protection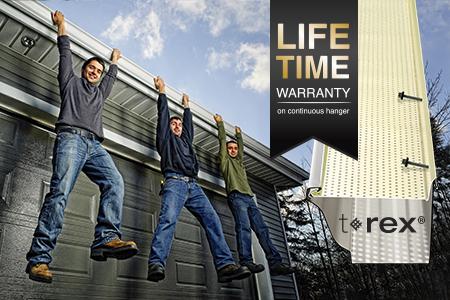 Your gutters are designed to safely carry rainwater and melted snow from your roof to your downspouts, keeping water away from your home's foundation. Leaking gutters and improper water drainage may lead to a variety of serious issues.
---
Reliabuild has found the solution for gutter protection by installing the T-Rex® from Alu-Rex, an innovative gutter maintenance system with a continuous hanger designed to keep your gutters straight and clean for years to come. It mounts your rain gutters solidly on your home, making them much sturdier and more long-lasting that those mounted with spikes and hangers spaced at intervals.
There are no weak points. It can support the weight of snow, ice and ladder.
It keeps snow out of eavestroughs, eliminating the risk of warping due to freezing and thawing.
The T-Rex continuous hanger is covered by a lifetime warranty on its sturdiness.
---